Ramy Ayach (Arabic: ‎رامي عياش) (born Ramy Abu Ayach, رامي ابوعياش, on
August 18
,
1980
in Baakleen,
Lebanon
) is a
Druze
Lebanese
singer, songwriter, composer, and instrumentalist.
Background
He is the youngest child in the family of Ramez Abu Ayach, he has two older brothers: Shady and Rony , its well known that their parents used to buy musical instruments to their sons as gifts on Birthdays.
It is hard to find artists who have had such an image, success and have managed to not only stay grounded but also maintain a positive and appreciative attitude , Ayach is known for his personality, sense of humor, and style.
[1]
In the
Middle East
, Ayach is usually referred to as the "Pop Star".
[1]
Musical career
1996
From Ramy Ayach's first appearance, his talent on stage charmed audience and the committee. At the end of the contest that lasted 9 months,He earned the golden medal,from the members of the committee. Ramy's first song " Bghanneela Webde'ellah" - (Performing Just For Her) became a hit even before the contest was over, written by
Michael Jeha
and composed by
Joseph Jeha
, arranged by the Maestro
Rafik Hobieka
. This hit track spent 8 weeks reaching the top of the national and International Arabic airplay charts and it earned Ramy a big nomination for best song 1997. Although many might consider succeeding in this program , to the young,talented and determined musician it was just the beginning of his career.
1997
This success was followed by his first album in 1997 "
Ra'eh
- (Splendid)", the music arrangement of that song made a change in the scope of Arabic music, with the single "Bghanneela Webde'ellah" and it gave him the chance to make the first international performance tour, playing over 50 concerts starting from his home country
Lebanon
,
Australia
,
UK
,
Italy
,
France
,
UAE
,
Kuwait
,
Jordan
,
Qatar
,
Egypt
,
Tunisia
,
Germany
, and
Syria
. "Ra'eh" became number (1) album in Lebanon; leading to live shows in front of thousands of fans on national television appearances.
1999
In 1999, signed with
Rotana
and released his third album "Wel'ah - ( Ah Expression)" with the fabulous and irresistible romantic single "Shta'tilak- (Missing you so much)" written and composed by him, arranged by the Maestro
Ehsan El Monzir
, and where it occupied #1 on Billboard's National Sales, National Airplay and International Arabic Airplay, with the two other hits "Sawad Elninny - (Black Eyes)" and "Wel'ah". In the mean time it was filmed the Video for the Popular hit "Shta'tilak" in Turkey with the Lebanese German Director
Said El Marouk
, staying in Top 20 Countdown and it had been chosen the #1 Video for 3 weeks on TVs.
2000
During the year 2000 was released the album "Diwan Al Hobb - (Divan of Love)" with the songs "Arfeeno - (Knowing You)", a pure oriented song mixed with international beats and tunes, "Khad Hareer - (Smooth Cheek)", and "Allah Aleak - (Your Amazing)" the video "Arfeeno" spent 4 weeks in the Top Video Charts. The video "Khad Hareer" was filmed in
Germany
and was exclusively lensed for the well-known German TV station (DW).
2002
In 2002, completed the album "Albi Mal - (I'm in Love)".8 new tracks that comprise the Super Song "Albi Mal", written by
Nabil Abu Abdo
, composed and arranged by
Jean-Marie Riachi
, and hit songs "Alla Ykoun Ma'ak - (May God be With You)", "Behwak - (I Love You)" composed by Ramy Ayach and "Allaylo Ya Layla" for the Legend Lebanese Artist "
Wadih El Safi
" renewed by Ayach's voice with a new mixing, modern rhythms and tunes. "Albi Mal", cemented his status as a Professional Pop Star in the
Middle Eastern
Countries, and left his mark all around the Arab's World. The track "Albi mal" occupied #1 on billboard's National sales and Airplay and International Arabic Airplay and nominated for Best Arabic vocal performance 2002 and #1 dance Pop Song 2002 on Disk Jockey's charts all around the Arab World. The Video song "Albi Mal" nominated for Best Video in the National TVs and International Arabic Video Charts.
2004
In 2004,Ramy released "Ya msahar eyni" produced by
Jean Marie Riachi
, which was their second collaboration and become his most successful album topping the music and video charts for months with his hit track, "Ya msahar eyni" and "Khallini Maak".The track "Mabrouk" was unofficial released as the third track on the album which soon became Ramy's most famous Arabic song played at all occasions and weddings and continues to be the theme song for all celebrations. Ramy then began his second world tour.
2006
Habbaytak ana
, is Ramy's eighth highly anticipated music album,released in December 2006. Executive Music Producer
Jean Marie Riachi
,carefully worked with Ramy to choose the best eight songs for the album using new writers including Ramy himself.The title track, which was the first to be released is being described by critics as "The new sound of the Arabic music industry" in terms of production quality as well as his powerful vocal performance.
[1]
Ramy Ayach has certainly set his mark in the
Arabic pop music
and his potential is only just being explored.After
Habbaytak ana
, Ramy feels he has just begun his music career and is looking to become the first
cross-over
artist into the international market.
[1]
The Agency and Me, an international entertainment firm based in the Middle East worked as Project Managers for the PR & Marketing campaign for Ramy Ayach's launch of the album, including new photo shoots, new website, management of the Music Video Clip and the PR campaign across the pan-Arab region in association with Rotana.
Discography
Habbaytak ana
(2006)
Ya msahar eyni (2004)
Albi mal (2002)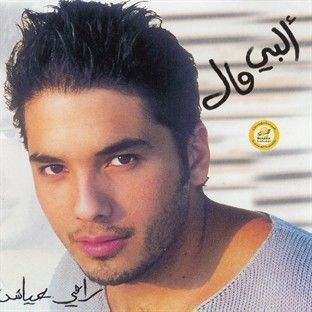 Dewan el hob (2001)
Wal aah (2000)
Moujiza (1999)
Rae'h (1998)